Plastic Injection Moulding In Australia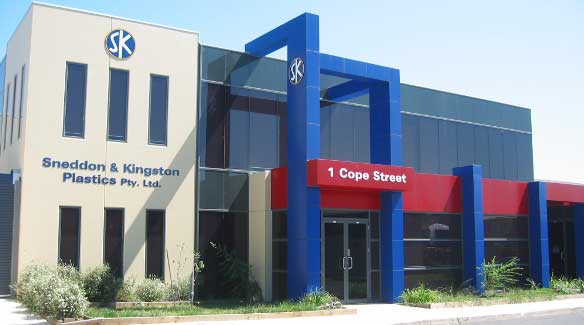 Sneddon & Kingston are industry professionals when it comes to plastic injection moulding in Melbourne, Sydney and all of Australia. We have the technical proficiency, the industry experience as well as access to modern facilities with automated processes to mass produce quality plastic products for various industrial needs.
Our team specialise in all aspects of product manufacturing. As a family owned business, we are focused on manufacturing and supplying high quality plastic injection moulded products for local Australian markets, and have been doing so for over six decades.
Moreover, we rely on various scientific methods, moulding process technologies, and analytical tools to provide custom plastic injection moulding. It allows us to meet the performance and precision needs for complex plastic components and applications. We have experience in specialised, complex design, engineering and support and can perfectly align with your specific project needs.
With us, you rest assured that we will never pursue your custom injection moulding projects at the cost of material selection, part design, mould design and process control. On the contrary, we take utmost care of these key stages of the product development process to accurately achieve the type of product design you want from us. It also allows us to make you achieve your business goals.
Our Products & Services
As specialist plastic injection moulders, we design, optimise, manufacture and supply plastic injection moulded products. We meet the injection moulding requirements of high-quality engineered plastics. Our plastic injected moulded products provide an ideal replacement for heavier metal items.
It offers more advantages than metallic products because of its lighter, stronger, superior, and long-lasting characteristics.
Moreover, as one of the leading plastic injection moulding manufacturers, we can develop game-changing prepositions for your business to support you throughout your journey. So, whether you want plastic product design, prototyping samples, injection moulding, mould design, mould manufacture, or plastic optimisation, we are your one-stop destination.
We consistently achieve exceptional customer satisfaction through our seamless service and innovative ways to manage processes, products, and requirements. In addition, our business insight and keen eyes for detail allow us to understand market dynamics and customers' expectations.
Therefore, you can rely on us for mass-producing plastic components. We use a reliable and economical process to produce high-quality components with great dimensional consistency.
We Assist You at Every Stage of Development
Sneddon & Kingston provide services such as product design, mouldflow analysis, tooling and injection moulding.
Learn more about our plastic injection moulding capabilities in Preston, Melbourne. We continuously invest in the most advanced processing technologies and optimise our techniques in manufacturing to ensure that we remain agile and competitive in the marketplace.
Our primary services include plastic product design, prototyping for industrial interests, tooling manufacture and plastic injection moulding in Melbourne. If you would like to discuss your next project with our team, give us a call.
See our process methodologies for conceptualisation, design, prototyping and more.
The team at Sneddon & Kingston provide plastic injection moulding in Melbourne for various industrial sectors throughout Australia. We provide manufacturing solutions for; water filtration, food packaging, industrial packaging, automotive, construction, medical and pharmaceutical niches and so much more.
FAQ's
What is custom plastic injection moulding?
Custom plastic injection moulding is the process that helps create a unique mould. It involves listening to your particular requirements and selecting material based on your specification, and production of plastic parts or products to meet your specific needs.
As a leading plastic injection moulding in Australia, we have expertise in all aspects of the processes involved in plastic product manufacturing. We are known for producing superior quality tooling designs and products. In addition, we adhere to strict process and quality control systems to ensure quality service and products. Therefore, you can rely on us for design consultation, production, and distribution.
How much does it cost to make injection moulds?
Generally, making an injection mould can cost between $10,000 to $100,000. But the cost varies depending on several factors. As plastic injection moulders, we consider many things before estimating the final price, including your order size, part complexity, labour cost, and specifications.
Injection moulding can be an expensive affair to set up, but it will prove to be a cheaper deal over the long run. In addition, it works best for large production volumes. You can speak to our consultant to discuss your requirements and the cost of injection moulding.
How do I get custom plastic parts?
Getting a custom plastic part involves four basic steps, including:
Coming up with a design idea – A design idea doesn't involve sketching up your vision but also other factors like your material preference, the environment in which you will use the product and the factors that can affect its performance, tolerance requirements etc. You can get a consultation regarding all these factors.
Choosing an appropriate manufacturing process – There are three main ways to manufacture a plastic part: injection moulding, CNC machining and additive processing. You will have to choose the most appropriate process depending on your requirement and budget.
Prototype Building – Building a prototype is the final step before the production procedure. It reveals possible problems in real-world applications. Thus, it allows you to hone your designs and determine the functionality and efficiency of the plastic part.
Design Production – After prototyping, the design production process starts.
It has been a long year now; we have been helping our clients turn their design ideas into finished products. Hence, you can contact us to discuss.
How do you get something injection moulded?
The injection moulding process involves using an injection moulding machine, raw plastic material, and a mould. First, the raw plastic material is melted in the injection moulding machine. It is then injected into the mould. Here it is allowed to cool down and get solidified into the final part.
In simple terms, injection moulding requires four simple steps. They are:
Raw plastic material melting.
Injection of the molten material into a mould.
Cooling of the molten material into a solid state.
Removal of the hardened material from the mould.
As one of the leading plastic injection moulding manufacturers, we can help you with a quality injection moulding process.
What industries use plastic injection moulding?
Today, plastic injection moulding has become one of the most widely used plastic forming processes. It is known for having a wide range of manufacturing applications. In addition, the injection moulding process has many advantages, like customisability, high efficiency, speed, and affordability, which makes it different from other moulding and casting methods.
Moreover, customised plastic components provide an ideal alternative for industries seeking to mass-produce high-quality, cost-effective parts. It is because they employ the moulds to replicate an item thousands of times.
The plastic injection moulding technique necessitates incredible accuracy with maximum flexibility. This method has benefited many industries as the technology is used to produce products of different types and sizes for various purposes. Its application can be found in multiple industries like automotive, infrastructure, medical, food packaging, aerospace, household appliances, building and construction, etc.
Contact Us
For more information about our manufacturing capabilities and services, get in touch with our team today. Fulfil your need for specialised moulding and product design with Sneddon & Kingston.