Plastic Injection Moulding In Australia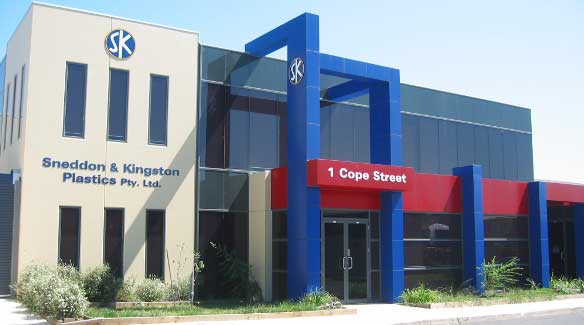 Sneddon & Kingston are industry professionals when it comes to plastic injection moulding in Melbourne, Sydney and all of Australia. We have the technical proficiency, the industry experience as well as access to modern facilities with automated processes to mass produce quality plastic products for various industrial needs.
Our team specialise in all aspects of product manufacturing. As a family owned business, we are focused on manufacturing and supplying high quality plastic injection moulded products for local Australian markets, and have been doing so for over six decades.
Moreover, we rely on various scientific methods, moulding process technologies, and analytical tools to provide custom plastic injection moulding. It allows us to meet the performance and precision needs for complex plastic components and applications. We have experience in specialised, complex design, engineering and support and can perfectly align with your specific project needs.
With us, you rest assured that we will never pursue your custom injection moulding projects at the cost of material selection, part design, mould design and process control. On the contrary, we take utmost care of these key stages of the product development process to accurately achieve the type of product design you want from us. It also allows us to make you achieve your business goals.
Our Products & Services
As specialist plastic injection moulders, we design, optimise, manufacture and supply plastic injection moulded products. We meet the injection moulding requirements of high-quality engineered plastics. Our plastic injected moulded products provide an ideal replacement for heavier metal items.
It offers more advantages than metallic products because of its lighter, stronger, superior, and long-lasting characteristics.
Moreover, as one of the leading plastic injection moulding manufacturers, we can develop game-changing prepositions for your business to support you throughout your journey. So, whether you want plastic product design, prototyping samples, injection moulding, mould design, mould manufacture, or plastic optimisation, we are your one-stop destination.
We consistently achieve exceptional customer satisfaction through our seamless service and innovative ways to manage processes, products, and requirements. In addition, our business insight and keen eyes for detail allow us to understand market dynamics and customers' expectations.
Therefore, you can rely on us for mass-producing plastic components. We use a reliable and economical process to produce high-quality components with great dimensional consistency.
We Assist You at Every Stage of Development
Sneddon & Kingston provide services such as product design, mouldflow analysis, tooling and injection moulding.
Learn more about our plastic injection moulding capabilities in Preston, Melbourne. We continuously invest in the most advanced processing technologies and optimise our techniques in manufacturing to ensure that we remain agile and competitive in the marketplace.
Our primary services include plastic product design, prototyping for industrial interests, tooling manufacture and plastic injection moulding in Melbourne. If you would like to discuss your next project with our team, give us a call.
See our process methodologies for conceptualisation, design, prototyping and more.
The team at Sneddon & Kingston provide plastic injection moulding in Melbourne for various industrial sectors throughout Australia. We provide manufacturing solutions for; water filtration, food packaging, industrial packaging, automotive, construction, medical and pharmaceutical niches and so much more.
Contact Us
For more information about our manufacturing capabilities and services, get in touch with our team today. Fulfil your need for specialised moulding and product design with Sneddon & Kingston.